This beautifully designed top control dishwasher harnesses the power of the Dynamic Wash Arms to provide complete water coverage and superior cleaning. The unique design has nine arms that directly spray water everywhere in the dishwasher, including hard to reach places. It also features exclusive Clean Water Wash System that continuously cleans the wash water for superior performance, even with the heaviest loads.
Dynamic Wash Arm
features nine wash arms in one for 3 times better coverage. This unique design directly sprays water everywhere in the dishwasher, including hard to reach places. This means dishes get a powerful clean no matter where they are placed in the rack.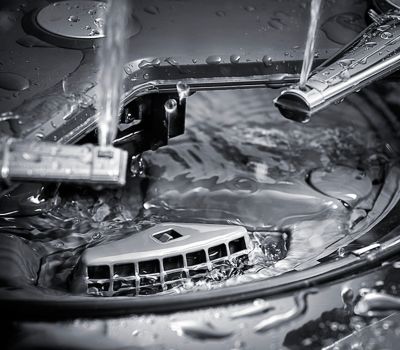 Clean Water Wash System
continuously removes food particles from the wash water. The result of this exclusive technology is clean wash water for excellent performance. Plus, there's no need to ever remove and clean the filter.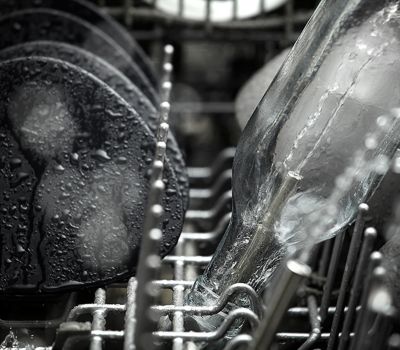 Bottle Wash
provides four dedicated spray nozzles in the upper rack that can be placed deep inside tall glasses and bottles to thoroughly clean even deep and odd-shaped dishes. Each nozzle is adjustable and can be bent down to accommodate a wide variety of dishes.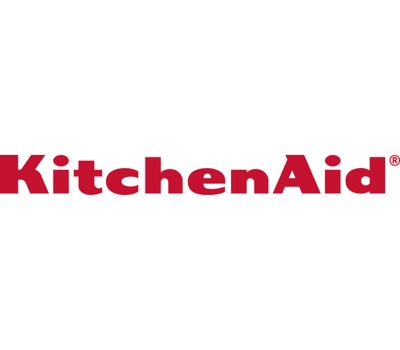 ProScrub® Option
Helps eliminate soaking or pre-scrubbing with 40 targeted spray jets that help remove stubborn messes like seared or baked-on foods.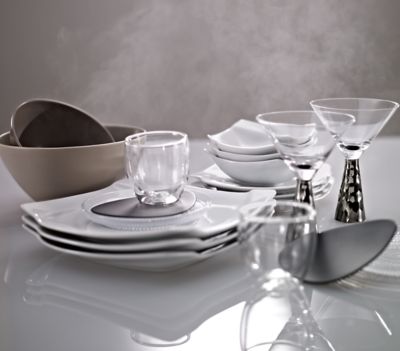 ProWash™ Cycle
Determines the ideal cycle for washing dishes based on soil level and then makes real-time adjustments to achieve the best cleaning performance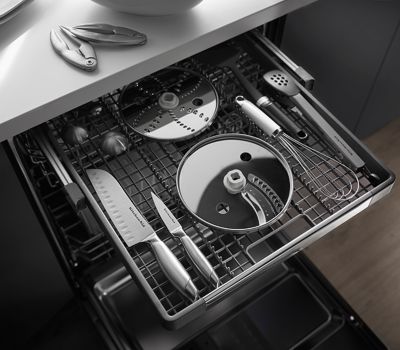 Third Level Rack
makes it easy to clean hard-to-place items such as spatulas, serving utensils and measuring cups, freeing up space in the lower two racks.

Advanced ProDry™ System
Delivers the best drying1 performance without rinseaid using a recessed heating element and a fan to draw moisture out of the wash tub giving you better drying results.

SatinGlide® Max Rails (Upper and Lower Racks)
Creates a smooth, premium feeling when pulling out the upper and lower racks, particularly with heavy loads.

Sliding Tines in the Lower Rack
provides the ideal fit for deep and narrow dish sizes. The adjustable tines let you customize the spacing between the rows.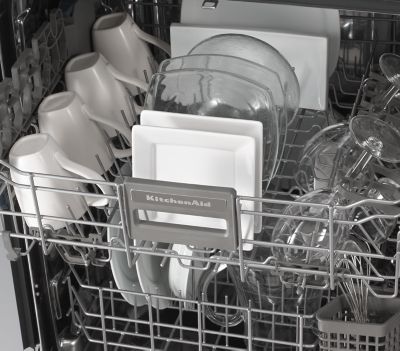 2 Fold-Down Cup Shelves with Integrated Stemware Holders
Provides extra room in the upper rack to hold additional cups, wine glasses, or long items such as utensils and spatulas.

Culinary Caddy
provides extra space for tall utensils such as whisks and spatulas, maximizing usable space in the lower rack.

Express Wash
quickly and effortlessly handles the heaviest soils, even stubborn baked and seared-on messes in less time.