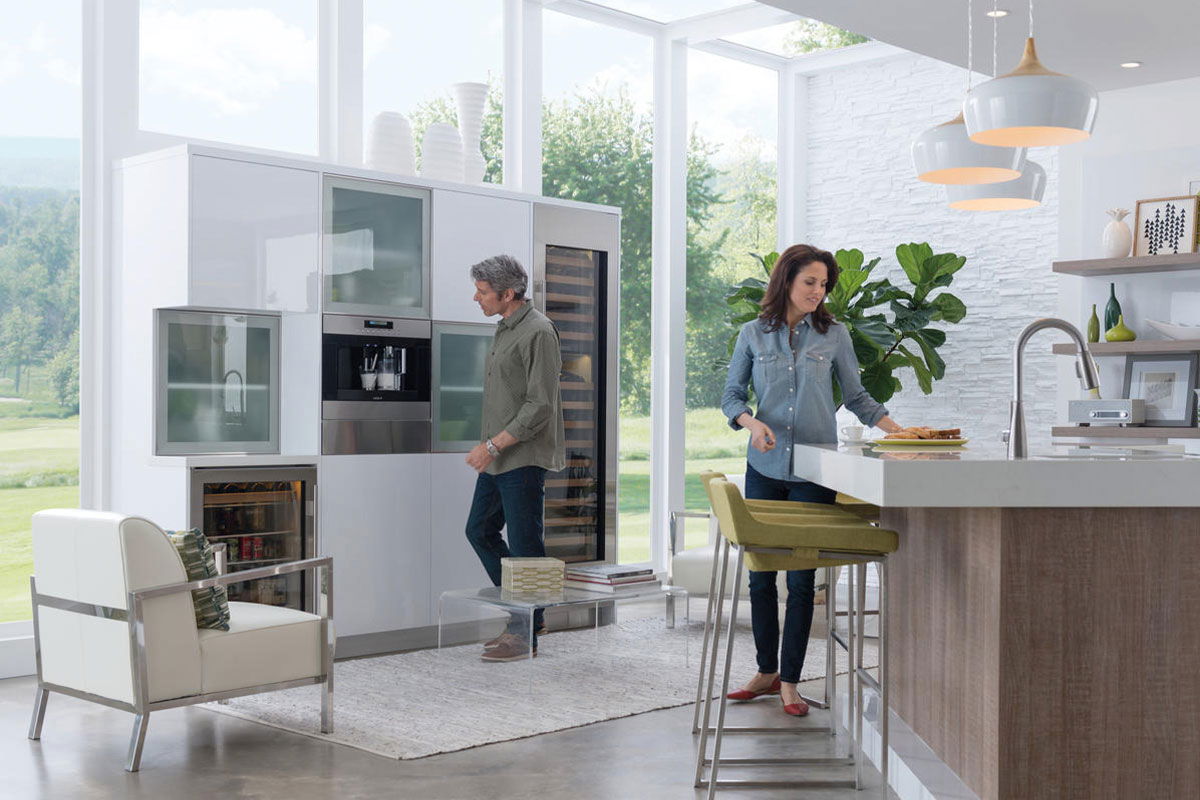 THANK YOU FOR YOUR BUSINESS

You've pined over Pinterest boards, your cabinets are in production, and you've thoughtfully selected your dream appliance package.

What's next?
APPLIANCE ORDER SUPPORT
NEXT STEPS
CUSTOMER SUPPORT TEAM (CST)

After you have made your selections with your salesperson, and have paid deposit
or order in full you, will be assigned a CST (Customer Support Team) member who will contact you regarding the status of your order.

Your CST member is your primary contact for tracking your order, notifying you that your order is ready to be picked-up, scheduling walk-throughs (If necessary), arranging delivery, and coordinating installation with the company you selected.

In addition, our CST member can also assist with any warranty/service issues.
SCHEDULING DELIVERY OR PICKUP

1. Within 1 - 2 business days after order finalization, you will receive a phone call or email from your assigned CST member. During this call, the CST member will confirm product availability and schedule an approximate delivery window time or Will Call pickup.

2. Approximately 2 - 3 weeks before delivery or Will Call pick-up your CST member will contact you via phone or email to schedule delivery. Please contact us 1 business day in advance to cancel delivery to avoid an additional fee.

3. For Will Call orders, your CST member will contact you via email or phone call once your order is available for pick-up.

4. For Delivery orders, you will receive a confirmation call 2 -3 business days before delivery from your CST member.

5. The evening before delivery, you will receive an automated call from Mountain Land Design with your 2 hour delivery window the for the next day.
DELIVERY OPTIONS
Mountain Land Design has a few delivery options available dependent on the nature of your products. For scheduling, please see the Customer Service Team section above.

For all delivery methods, the client must provide a clear path to the delivery site, and a designated representative must be present to sign for the delivery. At this time, we do not offer old appliance haul away.

STANDARD DELIVERY:
Mountain Land Design will unbox products (except those that are not designed to be freestanding), place appliances at installation site, and haul away trash.

COURTESY DELIVERY:
Mountain Land Design will deliver appliances curbside in original packing.

PRO DELIVERY:
Typically for Built-In products, delivery this includes unboxing of appropriate items, placing at installation site, and haul away of trash.

DELIVERY DRIVERS:
Mountain Land Design's delivery drivers wear a shirt or sweatshirt with our logo at all times. Most often they will be driving our own Mountain Land Design trucks, but during busy seasons we occasionally require truck rentals.

TRACK ORDER:
You may track your appliance order by entering in your information below:
Mountain Land Design offers Will Call for our Salt Lake City, Provo, and Boise locations.
At this time, Jackson and Sun Valley are delivery only.


SALT LAKE CITY
2233 S 300 East
Salt Lake City, UT 84115
(801) 415-1700

HOURS:

Monday - Friday: 8:00AM - 5:00PM
Saturday & Sunday: CLOSED
*Please note that our Salt Lake City Will Call is at a separate location from our showroom.
WHAT DO I BRING TO WILL CALL?
Your Drivers License or state issued ID
Your sales order number - a six digit number located in the top right corner of your invoice
Items must be paid in full at the time of pickup. You must pay in full prior to pick-up; we accept credit and debit cards over the phone. If you'd like to pay with cash or check, you may pay in person at one of our showrooms.
Mountain Land Design does not provide installation service. However, we can provide you with an estimate from one of the reputable and certified installation companies we do business with. If you choose to work with one of our preferred installers, we will be more than happy to coordinate your installation with delivery of your product.

Please talk to your assigned CST member for installation coordination. Using a
certified installer is required by most brands to ensure warranty coverage, in some
cases manufacturer rebates, and may also extend your warranty on certain brands.
SLC & PROVO APPLIANCE INSTALLERS:
MYTY Appliance Specialists:
(801) 998-8243
Certified Sub-Zero/Wolf/Cove

Kirk Rollins:
(801) 898-0322
Certified Sub-Zero/Wolf/Cove

Quality Installation Specialists INC:
(801) 214-8888
contact@qualityinstallationutah.com
Certified Sub-Zero/Wolf/Cove, Miele, JennAir, & RMGA

Greg Dixon:
(385) 955-8099



BOISE PREFERRED APPLIANCE INSTALLERS:
Christian Lager Appliance Installation:
(208) 407-1829
Certified Sub-Zero/Wolf/Cove

Quality Appliance Install (New Construction):
(208) 606-6392
Certified Sub-Zero/Wolf/Cove

Mr. Appliance:
(208) 887-9700
Certified Sub-Zero/Wolf/Cove
JACKSON PREFERRED APPLIANCE INSTALLERS
MYTY Appliance Specialists:
(801) 998-8243
Certified Sub-Zero/Wolf/Cove

Tri-C Appliance Repair & Installation:
(307) 248-2121
Certified Sub-Zero/Wolf/Cove

JH Appliance:
(307) 733-2244
Certified Sub-Zero/Wolf/Cove

Servco:
(208) 745-7300
Certified Sub-Zero/Wolf/Cove
KETCHUM PREFERRED APPLIANCE INSTALLERS
The Appliance Co:
(208) 788-4222

Certified Sub-Zero/Wolf/Cove



Valley Appliance:
(208) 727-1523

Certified Sub-Zero/Wolf/Cove
Mountain Land Design is an authorized dealer. All appliances purchased from us are protected by the manufacturer's warranty. Should you require service on your product, Mountain Land Design can assist in obtaining warranty information. If the warranty is still in place, a CST can schedule service using an authorized appliance service company. See our list of preferred service providers above.
QUESTIONS?
Please call (801) 466-0990 to be connected to your CST.
THANK YOU!